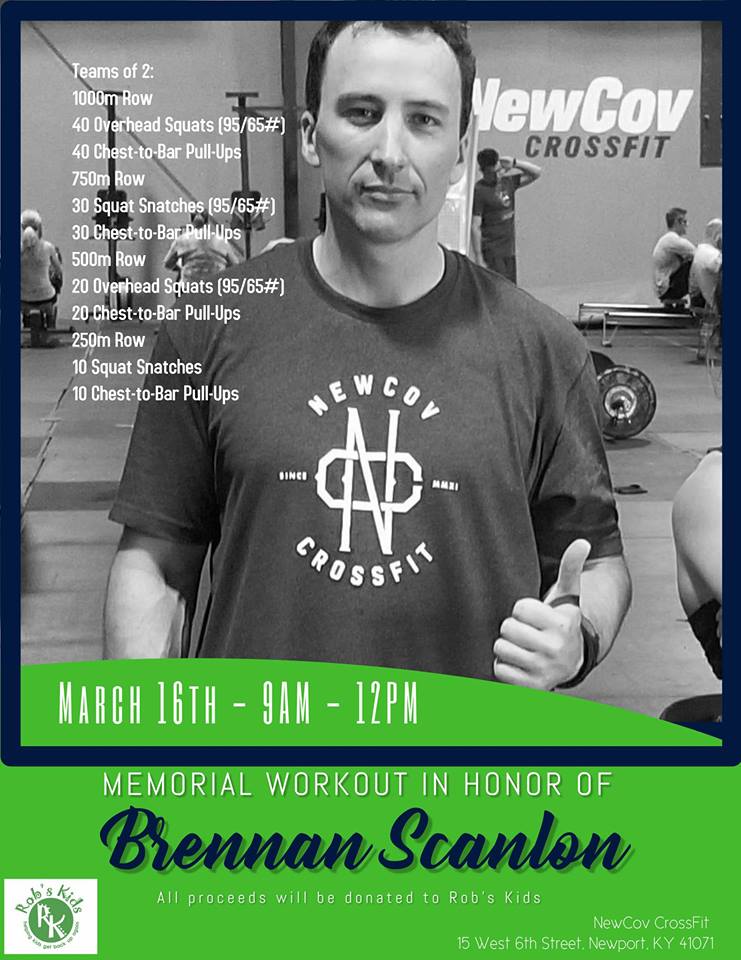 BRENNAN SCANLON MEMORIAL WOD: Saturday March 16th 9 a.m. to 12 p.m.

Click here for more info about the event.
Stephanie Potter, founder of Rob's Kids will speak at the start of the event. 
We will run 5 heats starting at 9:30 a.m. Click here to sign up for a heat (The WOD is for a Team of 2–only one team member needs to sign up.)
If you are able to make a donation, you can do so in 3 ways

www.robskids.org (Donation button in upper right)
Venmo to @Robs-Kids
Cash and Check donations will be accepted at the event

INTERNAL COMPETITION: Click here to keep track of the leaderboard.
REFERRAL REWARDS: For every member that you refer and purchases a special, you earn $25 in NewCov Rewards! To get credit for your referral, CLICK HERE (Must have been referred 12/1/17 or after) 
To join our Facebook group, click here. 
Conditioning
"Brennan" 
On Saturday, March 16th we will be honoring Brennan Scanlon, a beloved member of NewCov CrossFit. He lost his battle with severe depression and took his life last last Tuesday evening. 
We want everyone to remember Brennan for his kind personality and welcoming smile. He made new members feel welcome and old members feel appreciated. He is also the leader/owner of a large networking community called BNI. He helped hundreds of entrepreneurs in the area grow their business, including several CrossFit gyms. 
We invite the tri-state CrossFit community to come together to to celebrate his life and help to bring further awareness and knowledge on suicide prevention. 
We have picked movements that Brennan struggled with but worked very hard to improve on. He did not like snatches or overhead squats to say the least!! But he embraced them, worked hard on them and came to enjoy them 🙂 
Teams of 2–For Time (Time Cap: 25 Minutes)
1000m Row
40 Goblet Squats
40 Ring Rows or Push-Ups
750m Row
30 Goblet Squats
30 Ring Rows or Push-Ups
500m Row
20 Goblet Squats
20 Ring Rows or Push-Ups
250m Row
10 Goblet Squats
10 Ring Rows or Push-Ups